In alignment with the California Department of Public Health for Higher Education, UCSF is taking guidance from our local department of public health for social distancing and other actions to mitigate the risk of transmission of the coronavirus. For the latest information and guidance on COVID-19, go to UCSF's coronavirus website, https://coronavirus.ucsf.edu/, which is updated regularly.
The remaining Winter 2020 session for our Thursday night course will be live-streamed only. Please see the course page for more information. Our Tuesday and Wednesday courses have been postponed until further notice.
We regret that we will be unable to host participants in-person this week, in light of the Monday March 16th shelter in place order through April 7th by Mayor London Breed and prohibition of non-essential personnel or visitors to UCSF campus buildings through April 15 by UCSF Chancellor Sam Hawgood.
---
The UCSF Osher Mini Medical School for the Public is designed to provide members of the community the opportunity to see and hear what goes on every day in UCSF's classrooms and research labs with lectures from the same faculty who are on the front lines, teaching students in the health professions. UCSF Osher Mini Medical School addresses the accelerating public interest in the scientific knowledge behind the health headlines, the role of the consumer in health care decision making, and each citizen's role in participating in the shaping of health policy.
Learn more about UCSF Osher Mini Medical School by watching this clip
Winter 2020 Courses
Time (All courses): 7:00 to 8:30 p.m
Global Health and Emergency Medical Care: A View From Around the World
Tuesday evenings, February 11 – March 17 / Course# MLL20011
View Course Details / Register*
Asian Health: Unique Challenges / Unique Solutions
Wednesday evenings, February 12 – March 25 (No session on February 19) / Course# MLL20012
View Course Details / Register*
Improving Health Outside the Hospital Walls
Thursday evenings, February 13 – March 19 / Course# MLL20013
View Course Details / Register*
*A login is required to register online.
Registration Location
Download Map for Parnassus Campus

Need additional help finding the Nursing Building?
Download the Wayfinder Map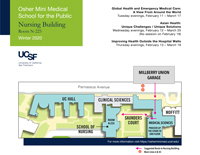 Spring 2020 Courses
Course details coming soon!
THE HEALTH EMERGENCY OF CLIMATE CHANGE
Tuesday evenings, April 21 – May 26
WHAT'S NEXT?: UCSF Scientists Outline What's to Come
Wednesday evenings, April 22– June 3
(No session on May 27)
INNOVATIONS IN CANCER TREATMENT: Radiation Therapy in the Modern Era
Thursday evenings, April 23 – June 4
(No session on April 30)